Sadler Brothers began its trucking roots in 1928 with a single contract US Mail route near Nashville, Tennessee. Today we operate multiple US Mail contracts within the Midwest and Southeast regions. In addition to serving our customers with the US Postal Service we also serve customers across the automotive, manufacturing, food and beverage and healthcare markets. With our dedicated logistics division, we can provide contract transportation services such as Just In Time (JIT) freight, Expedited, Contract, and servicead-hoc needs.
Sadler Brothers received their first long-haul major contract route in 1942 from Knoxville to Nashville, TN. The USPS gave Sadler 15 hours each way to operate as it was before any interstate systems were launched going into the Knoxville area out of Nashville. Sadler continued to operate this route until the reorganization of the Nashville and Knoxville plants in 2014.
Sadler Brothers provided the first tractor/trailer bulk mail shipment into the Nashville Post Office on Tuesday July 3, 1951. Our arrival inaugurated a daily round-trip from Tullahoma – to – Nashville. Along this route we serviced several cities. Mail for 39 smaller post offices serviced by these central offices was included in the deliveries.
Prior to this truck route being launched, almost all mail coming into and leaving Nashville was shipped by rail. With the new contract Sadler Brothers arrived 30 minutes ahead of schedule with the first shipment which included 160 sacks of mail and 165 boxes of parcel post.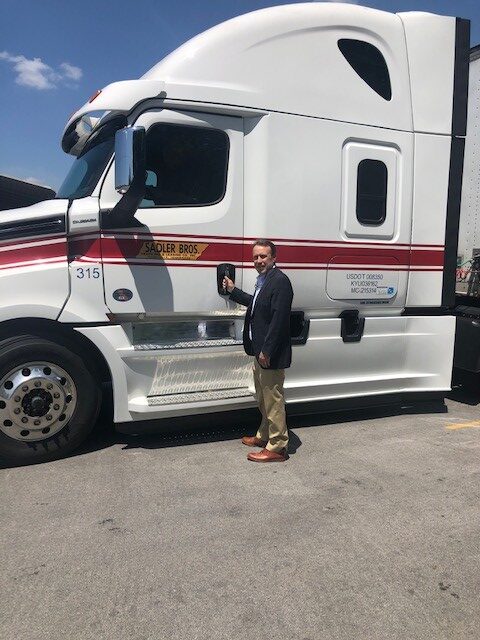 Sadler Brothers is fourth generation family owned. Chris Sadler, President, is involved daily in the business. Chris has been involved in the business in many capacities over the years, working as a driver and in the shop when his Grandfather, Earl Sadler, and Earl's son Check Sadler, ran the company. Sadler Brothers creates a family environment for our drivers and employees, welcoming everyone with an open-door policy. All levels of management, Including Chris, are available 24 hrs a day by cell phone to any of our drivers. The fifth Generation of the Sadler Family currently works inside the business. The Sadler family is committed to seeing Sadler Brothers Trucking continue to thrive and grow inside the transportation industry.
Sadler Brothers drivers have 24 hour access to our staffed shop, bunk house, showers, and private bathrooms. No matter when our drivers need us, we're available. Sadler Brothers drivers have 24 hour access
We Currently Have
Open Lanes
Predetermined and scheduled routes allow drivers to maintain a work and family routine. Efficient office staff insures direct attention to every concern for the driver and customer 24/7. Maintaining an 90+ year history of on time freight service is the number one objective for everyone at Sadler Brothers.
If you are interested in applying for a driving position that is centered on customer service and on time delivery please provide the information below and a company representative will contact you today.